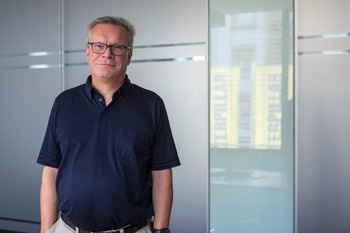 Frank Fuhrmann – Facebook Editor and Manager PR & Online Marketing for the MWM brand, has been with the company since 2009. His responsibilities include PR, social media, digital marketing, and photo/video productions at MWM. Frank Fuhrmann has more than 30 years of experience in the field of marketing.
Back in the 1980s, Frank Fuhrmann started working for an advertising agency as an account manager. Thereafter, he took up a job in the editorial office of a newspaper and later served in various marketing positions with industrial enterprises of the capital goods industry. Most recently, Frank Fuhrmann worked in Switzerland.
He has already received several international awards, including six intermedia-globe awards, in recognition of his MWM video productions.
In terms of editorial content, he particularly focuses on topics such as environmentally friendly energy generation and its economic implementation.
Contact details
E press@mwm.net
T +49 6 21/3 84 – 86 33
X xing.com/profile/Frank_Fuhrmann10/
Posts by Frank Fuhrmann